Event Details
Breakfast Meeting - Creating an Inclusive Workplace
Date:
October 11, 2018, 8:00am – 10:00am
Organizer:
Location:

Jumping Brook Country Club
210 Jumping Brook Road
Neptune, N.J.

Price:

$30.00 members, $40.00 non-members, $25.00 in-transition and first time guests, $10 students, $10 additional fee for registrations after 10/5/18

Event Type:
iCal link
Creating an Inclusive Workplace - The Forces at Work
Many factors can affect a person's career advancement in an organization. Why is it some people's careers seem to accelerate while others, who work harder and harder, can't get ahead? This presentation looks into the forces that are operating in today's workplace - forces that tend to reward some people and hinder others. These forces are often triggered because of the diverse characteristics of the individuals in the organization. The closer an individual is to the culture of the organization, the greater the likelihood these forces will accelerate their careers, while these same forces will hinder the careers of those who are different.
HR professionals often provide guidance in organization's talent management and employees' career planning. Hence, understanding how employees' diverse backgrounds could interact with the organization's cultural characteristics can be helpful in coaching managers and helping employees' career planning efforts. This presentation will describe eight diversity-related forces, examine how they may impact an individual positively or negatively, discuss who is responsible to counteract these forces, and suggest strategies to counteract them.
For more information, please click HERE.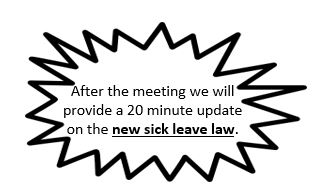 If you're interested in sponsoring this meeting, please contact Bob Kane or Dave Kostka.